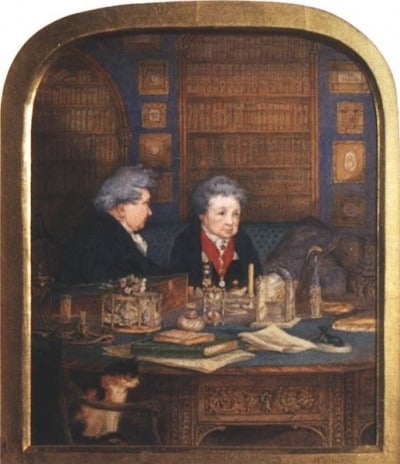 In the Lancashire Archives there are papers relating to the family of William Cross and his descendants. The documents include an account of a visit William and companions made to North Wales. It provides insights into the world in which William Cross and his contemporaries moved and it shines a light on attitudes from the time towards female same-sex relationships. What counts as a scandal changes over time.
After a busy Assizes in the spring of 1790, William Cross, his father John Cross and their attorney friend Joseph Seaton Aspden, who built the 3rd house on Winckley Place, set off from Preston with their servants for a tour on horseback to North Wales. Their route took them to Llangollen where they visited the 'Ladies of Llangollen'. Lady Eleanor Charlotte Butler and the Honourable Sarah Ponsonby were two upper-class Irish women whose relationship during the late 18th and early 19th century scandalised and fascinated their contemporaries. They lived together for over 50 years and, despite their initial desire for a peaceful and untroubled existence became, by the early years of the 19th Century, somewhat of a tourist attraction for the little town in North Wales.
No doubt, like many more distinguished guests, William et al wanted to visit the 'romantic owners' of the Cottage; Plas Newydd, a rural idyll of fine rooms and beautiful gardens with fine views.
Eleanor and Sarah's background
The two ladies were of great family and fortune in Ireland, Eleanor was Roman Catholic and Sarah belonged to the Established Church. They became known as the 'two most celebrated virgins in Europe.'
The pair met after Eleanor was asked by both families to 'mind' Sarah, who was attending Miss Parke's School close to Kilkenny Castle in 1768. They became close friends despite the age difference (29 and 13). Over the years they formulated a plan for a private rural retreat. It was their dream to live an unconventional life together – Eleanor to escape being sent to a convent, as at 39 she was regarded as a spinster who would never marry, and Sarah to escape the unwanted advances of her guardian, Sir William Fownes.  In 1778 they disguised themselves as men and set off, carrying a pistol. They were found and returned to their families.
However, they ran away again; fleeing from Ireland assisted by their maid Mary Carryl. Mary became their housekeeper; without pay. She stayed with them for the rest of her life, was buried in the same plot and memorialised on the same gravestone. They escaped to Wales and after renting a cottage they bought a house and named it Plas Newydd (New House).
They proceeded to live according to their self-devised system, though they could only rely on what they regarded as a modest income from intolerant relatives, and eventually a civil list pension.
Their aristocratic backgrounds never quite disappeared and they insisted on maintaining a household that consisted of gardener, footman and two maids. Consequently finances were always a problem; they had an annual income of under £300 (£30,000 today). This led to significant debt, and they had to rely on the generosity of friends.
They rented additional land and in addition to their passion for gardening they took up farming. Cereals, vegetables and dairy gave them both food and a rising income when food shortages during the Napoleonic Wars led to rapid price rises.
They 'improved' Plas Newydd in the Gothic style with Welsh oak panelling, pointed arches, stained glass windows, and an extensive library, in which they received their many guests. Visitors would bring gifts of wooden carvings which adorned the entrance hall.
The exact nature of their relationship became the source of much speculation. Their house became a haven for visitors.
Visitors to Plas Newydd
They devoted their time to hosting a range of friends and curious visitors, extensive correspondence, private studies of literature and languages, and improving their estate. Over the years they added a circular stone dairy and created a sumptuous garden. Eleanor kept a diary of their activities. Llangollen people simply referred to them as 'the ladies'.
At the time of Joseph Seaton Aspden's and William and John Cross' visit Eleanor was 51 and Sarah 35. They fascinated the public and intrigued the imagination of many who wondered, in public and in private, about their relationship – was it sexual? Nobody, neither then nor now, has been able to find out.
The ladies were known throughout Britain. Visitors included Lord Byron, Sir Walter Scott, the Duke of Wellington, Anna Seward (English poet), Princess Caroline, the Stanley Family, the Countess of Upper Ossory & Lady Louisa Stewart (Writer).
The ladies were reliant on friends for support. Queen Charlotte wanted to see the cottage. She persuaded King George III to grant them a pension. Eventually their families came to accept the arrangement.
William Wordsworth wrote a sonnet about them.
To Lady Eleanor Butler and the Honourable Miss Ponsonby,
Composed in the grounds of Plas-Newydd, Llangollen
A stream to mingle with your favourite Dee
Along the Vale of Meditation flows;
So styled by those fierce Britons, pleased to see
In Nature's face the expression of repose,
Or, haply there some pious Hermit chose
To live and die — the peace of Heaven his aim,
To whom the wild sequestered region owes
At this late day, its sanctifying name.
Glyn Cafaillgaroch, in the Cambrian tongue,
In ours the Vale of Friendship, let this spot
Be nam'd, where faithful to a low roof'd Cot
On Deva's banks, ye have abode so long,
Sisters in love, a love allowed to climb
Ev'n on this earth, above the reach of Time.
William Cross found the ladies handsome and very sensible women but he disapproved of their living arrangement, noting 'The motives from which they have thus deviated so widely from the general and I think more useful and natural modes of life, are and must remain dark and mysterious.'
Such a same-sex relationship might be tolerated by some or may be lauded by others on the assumption that lesbian sexual activity was inconceivable, but only as a curiosity and even then among women of rank and wealth.
But William Cross, a Preston attorney, found it unnatural and deviant contrasting it unfavourably with the 'natural' heterosexual unit. There is a degree of hypocrisy here. William Cross and his two companions knew why they were going to see the women, it was their reputation which attracted visitors. Nonetheless, his curiosity satisfied, he criticised it.
Lifelong Friends
Eleanor and Sarah lived together for 50 years. Their books and glassware carried both sets of initials and their letters were jointly signed. Towards the end of their lives, they both dressed in black riding habits and men's top hats; some visitors thought it was eccentric and outdated – especially the hair powder – but neighbours thought the clothes were practical for living outdoors.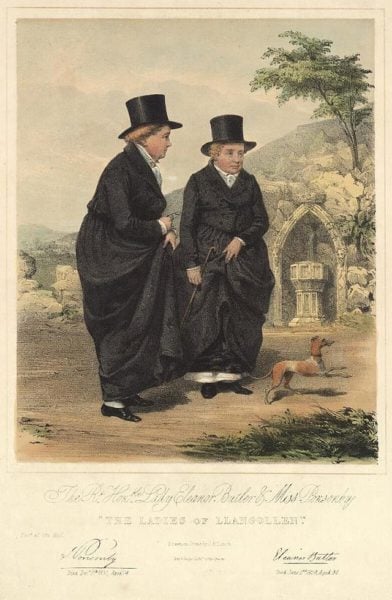 The Ladies of Llangollen were eventually reconciled with their families but continued to live in North Wales. And the public continued to come.
Death of Eleanor, Sarah and Mary
When Mary Carryl died in 1809 it was decided that when the time came all three would be buried together. In 1810 they erected a three-sided, gothic style monument surrounded by railings over the grave in St Collen's churchyard. Eleanor Butler died in 1829 at the age of 90 while Sarah, 16 years younger, lived on alone at Plas Newydd for two years until December 1831 when she died age 76.
The epitaph, added after the deaths of all three women, emphasises the longevity of her relationship with Butler, 'with whom she had lived in the valley for more than half a century of uninterrupted friendship'.
The monument was restored by Hanes-Llangollen-History in time for its 200th anniversary in 2010. The memorial plaques of Carrara marble to Eleanor Butler and Sarah Ponsonby were so badly eroded they had to be replaced with replicas. The originals can be seen in the Llangollen Museum.
Legacy
Lady Eleanor Butler and the Honourable Sarah Ponsonby captured the imagination of Georgian society. They received a stream of visitors to the unpretentious little cottage which, over the years, they transformed into a Gothic fantasy of projecting stained glass and elaborately carved oak.
Inside Plas Newydd today an exhibition, including some of their possessions and an audio tour, bring their story to vivid life. You can stroll through their gardens and along their riverside walk. And you can take tea, as Wordsworth, Sir Walter Scott and the Duke of Wellington have all done before you.
Plas Newydd House Museum & Gardens
Butler's Hill, near Plas Newydd, is named in honour of Eleanor Butler and the pub on Mill Street is the Sarah Ponsonby Arms.
People continue to be interested in the story of the Ladies of Llangollen, the exact relationship between the two women will never be known and it hardly matters. They were the greatest of friends and that friendship helped to sustain them through many years of what were, at times, gruelling challenges.
Many books have been written about them and pottery and postcards are memorabilia that are collected. It is highly unlikely that Eleanor and Sarah, living what they regarded as a boring life, would ever have imagined they would be remembered with such affection almost 200 years later.
On December 27th 1821 Agnes Addison noted in her diary 'Mr Addison's Rout'. I wonder if, when invited as a dinner guest, he was still telling the story of his, William and John Cross' tour of north Wales 31 years earlier. Or perhaps he had made a return visit!
Useful Sources
Lancashire Archives: Observations made upon a Tour thro' Part of North Wales, Sept. 1790.Cross Papers
By Patricia Harrison